Education for Tomorrow's Innovation
Today's vehicles have sophisticated diagnostic systems, so SRJC's students are trained to diagnose and repair auto engines, electrical systems, accessories, transmissions, brakes, steering, and air-conditioning. Our Diesel program offers the skill-set needed to repair farm equipment, construction machinery, trucks, and buses. Meanwhile, students in our Machine Tool program learn skills critical to manufacturing robotics, aircraft, electronics, and farm equipment. And our Welding shop prepares students for any industry where metal meets metal—from automobile racing to ship building, construction, refrigeration, and more.
Certificates
Auto Technology
Basic CNC Lathe
Basic CNC Mill
Basic Manual Machine Tool Technology
Brakes, Steering and Suspension Specialist
Diesel Technology
Diesel & Heavy Duty Engine
Diesel Chassis
Diesel Electrical/Electronics
Diesel Equipment Technology
Diesel Heating, Ventilation, and Cooling
Diesel Powertrain
Diesel Preventive Maintenance
Electric and Electronic Systems Specialist
Engine Repair Specialist
Heating and Air Conditioning System Specialist
Machine Tool Technology
Mechatronics & Electronic Technology
Powertrain Systems Performance & Electronics Specialist
Transmission Specialist
Welding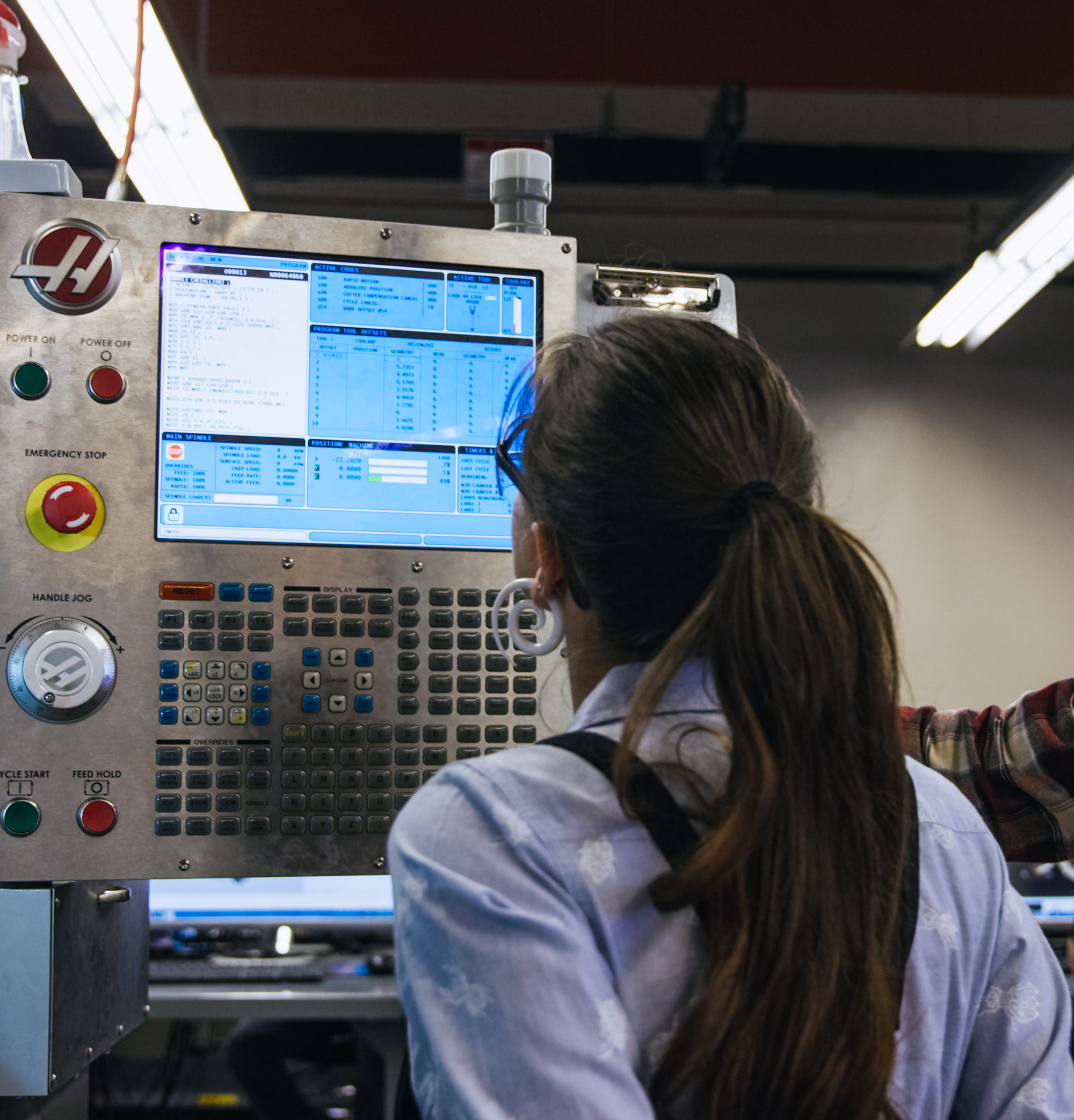 Beyond being skilled educators, our faculty are experienced. Their years of work in auto dealerships, metal shops, and manufacturing hubs have equipped them the most crucial hard- and soft skills to pass on to their students. We're so committed to real-world experience, all members of our four advisory boards are actively working in their industries.
In the Class, Under the Hood
We believe in real-life, get-your-hands-dirty learning. Learning by doing. Learning on the job. And, most importantly, learning from industry experts thanks to partnerships with Audi, Cummins, Caterpillar, Peterson, Subaru, and Toyota. Because tech changes so fast, we teach fundamental concepts and how to learn, exposing our students to emerging technologies including technology around hybrid-electric vehicles, fuel cells, autonomous vehicles, and proton batteries.
We also believe in giving our students the tools of the trade: Through our partnerships, our students also enjoy healthy discounts on Snap-On and Matco tools.
Get Connected
SRJC partners with local employers like Hansel Ford so we know the exact skills they want in employees. In fields like welding and automative tech, many students receive job offers before they've even completed their coursework. And with our national certifications, students are qualified for employment opportunities all over the country, from auto dealerships to repair facilities to manufacturing hubs all across the West Coast and beyond.
Job Positions and Salaries
Entry-level positions in Advanced Tech offer monthly salaries in the following ranges:
Auto Mechanics
$2,601-$3,426
Setters, Operators, Tenders
$2,047-$2,551
Diesel Technician specializing in Engine Repairs
$3,400-$4,350
CNC Machine Tool Programmer
$4,014-$4,953
Extruding & Drawing Machine Setters, Operators, Tenders
$1,842-$2,591
Lathe and Turning Machine Tool Setters, Operators, Tenders
$1,842-$2,591
1501 Mendocino Ave.
Santa Rosa, CA
95401-4395
(707) 527-4011
Industrial & Trade Technology is an expanding field that keeps our country moving forward in more ways than one. If you're ready to combine the hands-on aspects of machinery with the sophisticated realm of tech, sign up today.