Safety First
Every day, brave professionals work hard to save countless lives fighting crime, battling fires, and providing emergency medical care to citizens.
And every one of those professionals requires critical life-saving skills to be effective. Our Public Safety Training Center provides college-level classes to students interested in criminal justice, fire-protection technology, corrections, and emergency medical care, as well as in-service training for public safety professionals.
Certificates
Administration of Justice Corrections
Advanced Cardiac Life Support
Basic Arrhythmia Recognition Course
Basic Police Officer Academy
Children in the Justice System
Corrections
Corrections Officer Basic Course
Emergency Medical Responder (first responder)
Emergency Medical Technician (EMT basic)
Emergency Medical Technician (EMT basic)
Emergency Medical Technician (EMT refresher)
Fire Technology
Firefighter Academy
Juvenile Counselor Basic Course Certificate
Modular Police Academy (part-time)
Probation Officer Basic Course
Public Safety Dispatcher Basic Course
Park Ranger Academy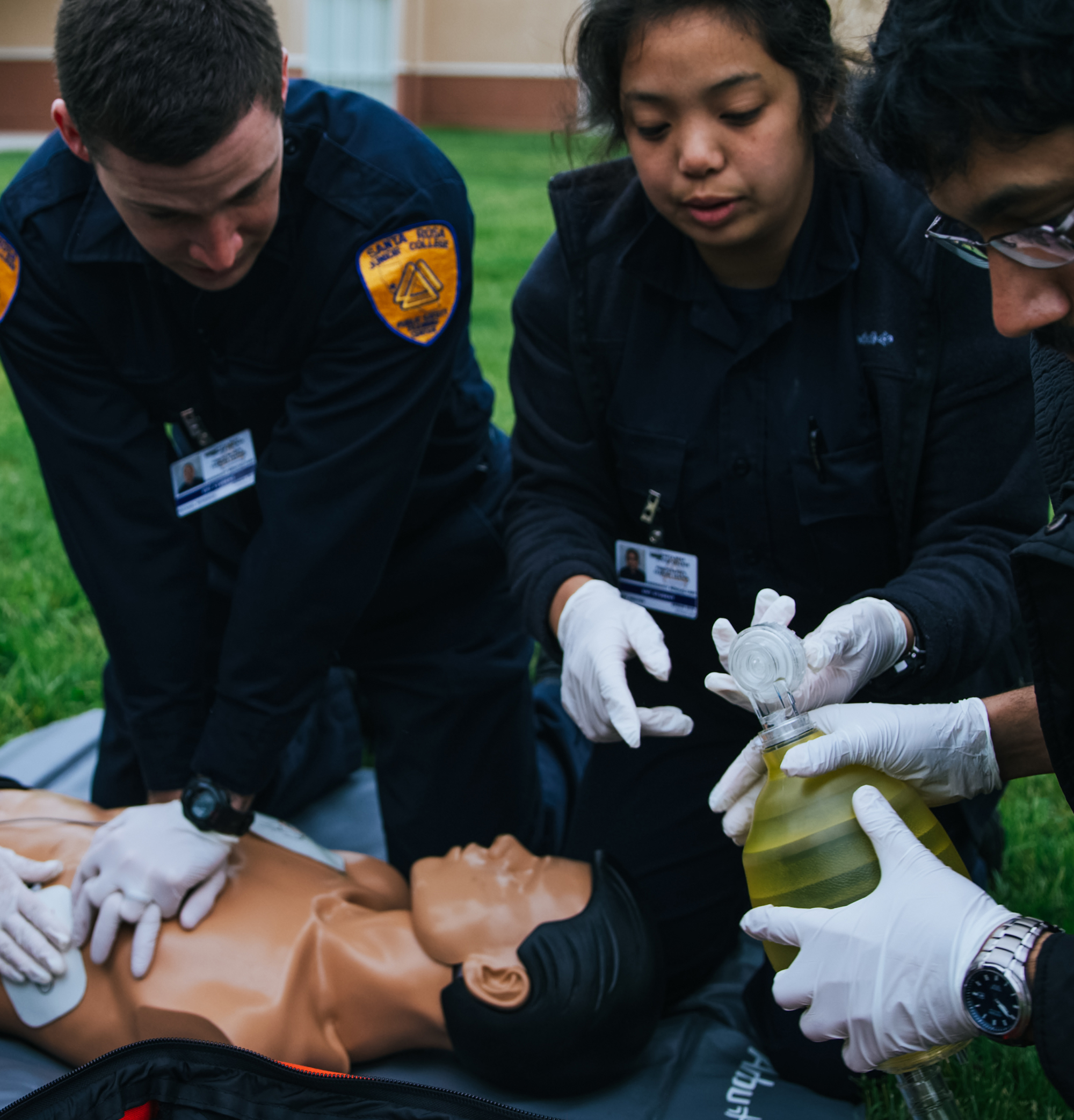 The Best Training the Best
Our Public Safety programs are directed and taught by active paramedics, firefighters, law enforcement officers, rangers and correctional officers—many with decades of experience on the job, and several who graduated from the academies they now instruct.
Real-World Experiences
Students in SRJC's Police Academy and Ranger Academy complete their training at our Public Safety Training Center in Windsor, where they have access to state-of-the-art facilities including a "Scenario Village," simulated emergency room, fleets of emergency vehicles (fire engines, squad cars and ambulances), defensive tactics building, weight room, a 15-lane firing range, 10-acre driving track with skid pads, fire-training tower, burn room, vehicle fire prop, draft pit, and other cutting-edge equipment including highly sophisticated human-patient simulators.
Reporting for Duty
In the last five years, 100% of SRJC's Public Safety alumni have been employed within six months. And California isn't alone: Public Safety is a growth industry currently seeing a nationwide shortage in eligible workers; experts estimate 14-18% growth in the next ten years.
To meet those needs, our Police Academy Intensive is certified by the California Commission on Peace Officer Standards and Training (POST); successful completion makes candidates eligible for employment as a police officer or deputy sheriff anywhere in California. The 17-week Park Ranger Academy prepares candidates to work as Law Enforcement Rangers for the National Park Service or at county and regional parks—the only such Academy in California. And EMS personnel receive in-service training and certification renewal credits in the areas of Emergency Vehicle Operations, Advanced Cardiac Life Support, Pediatric Life Support, and more.
Job Positions and Salaries
Entry-level positions in Public Safety offer monthly salaries in the following ranges:
Firefighters
$4,227-$5,629
Paramedics, EMT
$2,090-$2,809
Park Rangers, Fish and Game Wardens
$5,046-$6,207
Corrections Officers, Jailers, Prison Guards
$4,948-$6,447
Police Officers, Public Safety Officers, Deputy Sheriffs
$6,539-$8,062
Administration
(707) 836-8843
Law Enforcement In-Service Training
(707) 836-2912/2915
Basic Law Enforcement Academy
(707) 836-2907
Fire Technology
(707) 836-2908
Emergency Medical Care
(707) 836-2921
Park Ranger Academy
(707) 836-2909
Careers in Public Safety are among the most challenging—and the most vital—in every community.
If you're ready to serve others in critical need, enroll today.